Virtual Meeting Software Solutions for Businesses
Jump Into the Workplace of the Future
You might look like an outdated company if you don't have virtual meeting software. Companies everywhere are taking advantage of telecommuting and its benefits. Virtual meeting software and work-from-home technology help create a productive workspace and provide a work-life balance. This new workspace helps increase engagement and employee retention.

Our software keeps the lines of communication between you and your staff strong. Whether your employees are working from home within the same city or your staff is spread out across the country, Catapult Creative Media has the solutions you need for telework.
Keep Your Business Going from Anywhere with Virtual Meeting Software
Our virtual meeting software gives you the power of collaboration no matter where you're located. Host video meetings with employees and clients effortlessly. Our secure and dependable software guarantees safe, high-quality webinars, training sessions, and more. Host meetings in password-protected rooms for additional safety.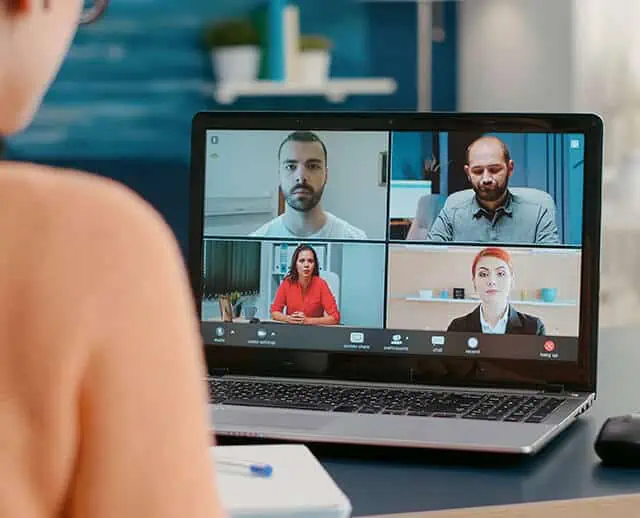 All you need is a Wi-Fi connection to start experiencing the freedom of working from home.
Our virtual meeting software for companies includes:
Our virtual meeting software for companies includes:
Screen Sharing
Video Conferencing
Meeting Recording & Transcription
Conference Room Equipment
Password Secured Meetings
Dedicated Meeting Rooms
Team Communication Tools
Document Management
Customer Communication
Security
Talk to us about our virtual meeting software for a quick and easy transition into telework. We'll help get you and your team set up and jump into your first virtual meeting.
Why Should Your Business Look into Virtual Meeting Software?
56% of employees in the United States have a job where part of their responsibilities could be completed from their home. Virtual work can increase employee productivity, reduce absences and burnout, and diminish operating costs.
Sometimes you or your employees can't be in the office. Whether it is because of dangerous weather conditions or office renovations, remote work is a solution for many companies.
Here are a few industries that commonly use telecommuting software:
Computer & Information Technology
Whether your office is completely virtual or you only need the option for remote work when a snowstorm blocks the roads, we have a long-term solution for you. Our virtual meeting software solutions work – we've been using them for years! Rely on us to show you how to set it up so you can jump into your first meeting.
Give your employees the option to work from anywhere in the world with our virtual meeting software and other complete business solutions. Contact Catapult today about the benefits of telework.

Do you want to know if your business can use virtual meeting software? Call Catapult! We'll ask a few questions about your company and find the best solution for you and your employees.
Invest in the Future of Your Business Operations with Virtual Meeting Software