11 Reasons to Blog – Make Your Life Easier
We're not here to tell you that you should start a blog because it's easy and fun. Blogging takes real time and serious effort to be useful to anyone, including your business. But if you're willing to put in the time and effort or pay a company for blogging services, then there are 11 big reasons to blog. Ultimately, all those reasons to blog result in helping you sell more products or services more easily.
Doesn't that sound nice? Being able to sell your products and services more easily all because you have a few blogs? No more three-hour phone calls convincing someone you're the best for the job. Just smooth sailing because they already know you're the best. So, buckle up; we're here to explain all the reasons to blog as a company.
[Related: Why You Need an Agency with Professional Writers on Staff]

Buckle Up – Here are the 11 Big Reasons to Blog as a Business
Show Expertise in Industry
The first reason to blog is to show off your knowledge. A blog allows you to show your customers that you're the expert they can rely on with in-depth knowledge. You'll have the chance and platform to tell them all the nitty-gritty details of your industry that no one knows about. You can very easily show you're the expert with all the answers and solutions to their problems through regularly scheduled blogs.
Sell without Selling
The next reason to blog as a business is all about selling. You're selling in a subtle way every time someone looks at your blog for answers. When a person comes to your blog and finds the information they were seeking, they will notice whose site they are on and what you do. This is especially true if you plug your business into the article itself with a subtle selling pitch. Then, you'll be top of mind when they're ready to buy, thanks to increased exposure from your blog.
Target Niche Keywords
Businesses need a blog to help capture potential customers who are online for specific informational searches – i.e., "what type of commercial should I have as a business?" Blogging is the perfect opportunity to expand what keywords you rank for on search engines.
When you expand what search terms you get found for, more people will find your company and purchase your products or services. If you're not taking advantage of blogging, you're ultimately just passing your customers to the competition. You can get extremely specific with blogging keywords and shoot for niche industry topics or long-tail keywords that give you increased market share online.
Target Natural Language Search
Another reason to blog is to target natural speech patterns. More and more people are searching via the talk-to-text features in their phone. Voice search tends to be its own language as people search differently when speaking than when typing. Blogging gives the opportunity to optimize your site for voice search using more natural language.
[Related: Voice Search Optimization: The Future of SEO]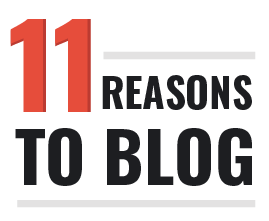 Compete in the Local Market
Sometimes local competition can be fierce and it can be hard to stand out in the crowd when you all sell the same product/service. Blogging can give you an advantage over your local competition by providing customers with that next level of customer service. When your customer has to choose between you and your local competitor, they'll choose you because you'll have more useful, relevant information on your site. That's a reason to blog that pays for itself.
Get Reindexed and Build Online Authority
Blogging is a long-game strategy, but one every business desperately needs. Posting blogs on a consistent basis that are search engine optimized and useful to readers will help you get reindexed, build traffic, increase backlinks, and more in the long run. This translates into increased online authority, which is a great reason to blog. We have to feed the Google fire to reap the benefits.
Build Brand Loyalty
We hear it all the time – businesses want loyal customers, but what are you doing to build that loyalty? Loyalty doesn't grow on trees – you have to earn it, and blogging is one way to help build loyalty. Give a reason for your customers to come back to your business time and time again with blog content they want to see.
Increase Brand Awareness
Another reason to blog is to increase awareness of your company. Have you ever shared an article, recipe, news story, video, or another piece of content? Chances are you have – so has everyone else. When you produce good content that people are searching for, it's likely to be shared with others. When that content gets passed around with your business's name on it, you're increasing your visibility in the market so more people know about you and may buy from you.
Pass on this blog to other business owners you know so they know the reasons to blog and reap the benefits of blogging too!
Increase User Time on Your Site
Blogs increase a browser's time spent on your site. The more time they spend, the more likely they are to purchase. Think about it; you have a blog about the reasons to blog, and in that blog, you make a plug that says "don't have time to blog yourself? – call Catapult Creative Media for professional blogging services" and link to that page, which they follow and read about your amazing services. You help lead them through your site and understand why you're the best for the job until they eventually call and buy what you're selling. This reason to blog is ingenious.
Double Dip with Your Content
This reason to blog is all about using what you have to its fullest potential. Blogs give you useful, relevant content for other advertising efforts. Our clients have used their blog content for educational purposes, social media marketing, email marketing, and more. You can put your blogs to work for you in other aspects of your business or marketing, so you get more bang for your buck.
Add Personality to Your Site
This final reason to blog is all about you and your business. Let's face it, websites are mainly built to sell, and sometimes we can't always be as expressive as we like without alienating some potential clients. You need to sound professional and trustworthy above all else on your main site pages because that's what most people see. However, in a blog, you have the space to add a credible but personal touch to your marketing strategy and show your personality through tone and stories. People expect blogs to be more informal and to be a space where two-way communication happens. They want that deeper insight into your brand, and a blog is a perfect space for it.
There you have it! The 11 reasons to blog as a business. Seriously, if we didn't convince you yet that you need a blog in your marketing strategy, then we don't think anything will. Having a blog on your business website is crucial to growing your company, so call Catapult Creative Media today to get blog writing services that don't eat up your time as a busy business owner. Call 225-590-3310 now.
Meredith Kisow is the lead copywriter at Catapult. She enjoys reading, hiking with her husband and dogs, and taking way too many pictures of her pets.
Work with Catapult Creative Media Inc. Catapult Creative Media Inc. is a digital marketing and design agency serving clients across the United States. Founded in 2007, Catapult is headquartered in Baton Rouge and provides digital, social, and mobile marketing solutions backed by relevant strategy and measurable results. Catapult works the web to their clients' advantage, launching them to their next level of success.