The Thought of Composing a Cold Email Marketing Campaign Sends Shudders Down Many People's Spines. Don't Let Them Intimidate You!
A cold email is an unsolicited attempt at contacting and converting a potential customer. These emails can range in size from the one-on-one variety to mass scale efforts. Whether the email is being sent in an attempt for better business promotion or in hopes that a certain person shows customer loyalty potential, these messages are necessary toward a successful email marketing campaign.
For additional help with your email marketing strategy, contact Catapult Creative Media at 225-590-3310. We can handle the email marketing campaign for you with experienced professionals who know how to get the best out of your business.
Email Marketing Campaigns are the Modern-Day Equivalent of Door-to-Door Sales
Fifty years ago, door-to-door sales was one of the most effective methods of persuasion. Now, emailing is the preferred method of business for almost every professional. Email marketing campaigns will only continue to grow in scope and relevance so knowing how to write the effective kind is paramount. All of the tactics door-to-door salespeople employed 50 years ago – charm, personalization, clever wordsmithing – should be the same techniques you use in crafting your email marketing campaign.   
Sending Out Cold Emails to Potential Customers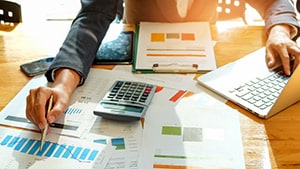 Cold emails are a difficult kind of email to send, but don't let that stop you from writing these necessary pitches. If you've identified a potential client, creating a perfectly crafted email could be just the spark they need to discover you. Arguably, the most important part of your entire email is the subject line.
Consumers receive an average of 120 emails per day. If you want to shine through, you'll have to differentiate yourself, and the subject line often provides the only chance to separate yourself. Mailchimp explains that a great open rate is associated with a subject line that resonates with your audience. Compose your subject in a way that is both personal and eye-catching.
For example, if you own a music store, you can target specific people by pulling from your email list (the one you've gathered through networking at local performances with details on who plays what instrument) and use a subject like, "Trombone Sale Next Week," to entice buyers. This subject line will go over exponentially better when targeting a known trombone player than a general "10% off all Woodwinds!" mass outreach email would.
If you can address your reader by name do so, but if you are sending out a mass email then skip it if necessary. Next, tell your reader exactly what they want to know with proper grammar and concise wording. In this case:
"Hey Daniel,

I'm sure you're busy, but I wanted to take a minute and let you know about our trombone sale we'll be having next week at Top Sounds Music on Perkins Road. We'll have a huge selection with our guaranteed Top Sound warranty. Feel free to contact us directly if you'd like more details.

We hope to see you in the store next week.

Thank you,

Top Sounds Music

[contact info here]"
This email doesn't waste anyone's time, and it tells the prospect exactly what they need to know while also providing personal contact information. This is the best approach to a cold email marketing strategy. After all, no one likes to waste their time reading an unexpected, long email.
If at First You Don't Succeed, Another Email Might Be in Need
Sometimes, all that's needed is a little push. Don't be discouraged if you've received no reply after a few days, simply send a follow-up. A surprisingly high number of senders, 71 percent, don't try a follow-up. This is a mistake because you've still got about a 30 percent chance of a response if you send three follow-up emails over the course of a couple of weeks. Never be pushy or rude, and remember, there's nothing wrong with a little persistence.
———————————————————————————————————————————————————————————————————————–
Daniel Anton is an intern at Catapult. He graduated from LSU with a degree in anthropology. When he's not writing, he enjoys thinking about dinosaurs and playing some good ole guitar.
Work with Catapult Creative Media Inc. Catapult Creative Media Inc. is a digital marketing and design agency serving clients over the United States but is proud to call Baton Rouge, Louisiana home. Founded in 2007, Catapult provides digital, social and mobile marketing solutions backed by relevant strategy and measurable results. Catapult works the web to their clients' advantage, launching them to their next level of success.