The Latest Google AdWords Update of 2016 Has Changed the Online Advertising Sphere
It's a fact: the recent changes to the Google AdWords landscape will result in your business having to pay more, and potentially a lot more, to compete online. In addition to this significant financial burden, your company, or the agency tasked with maintaining your Google AdWords campaign, will also have to spend more time strategizing and developing clever methods to differentiate your company from the competition.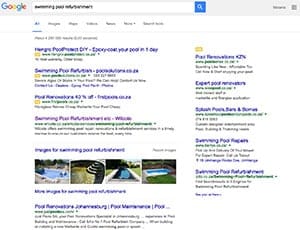 Google AdWords plays a massive role in Google's business model, and accounted for more than 65 percent of Google's profits last year, which was over $40 billion. It uses an advanced algorithm comprised of a quality score, a bid price, and a historical click-through rate to determine the positioning of a paid ad spot within a Google search page.
In arguably the biggest change in its advertising platform in over a decade, Google removed the right-hand side ads from its search result pages during the week of February 19. 
Before this change, the top three paid ad spots appeared at the top of a search page, above any organic search results. The right-hand side spot, previously reserved for the top 4-11 paid ad spots, was crucial for smaller businesses because it generally allowed them to compete with larger companies even though these smaller businesses have a smaller budget.
As it stands currently, Google AdWords allows for 3-4 paid ad spots at the top of a Google search, depending on how competitive the market is for that search term. The next 2-3 paid ad spots are located at the bottom of the page, below all organic search results, while the right-hand side spot has been entirely removed.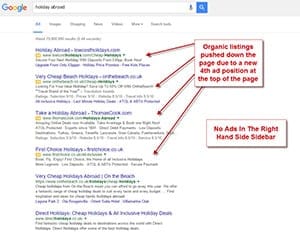 Google claims this change will improve a user's experience on its search pages, in addition to more closely resembling Google's mobile experience and layout. Google also argues that the click-through rate for paid ads on the right-hand side spot was not high enough to warrant keeping it.
David Maples, CEO at Catapult Creative Media Inc., has been involved with his agency running various Google AdWords campaigns for multiple clients for more than 10 years. He is skeptical of Google's reported rationale that the changing of AdWords was implemented in pursuit of improving user experience, but rather that the change was made primarily for reasons of profit.
He warns that this Google AdWords change will inevitably mean that smaller companies will have to refocus on improving organic search results as an alternative to paid. He estimates that Google AdWords will see a 10 to 20 percent increase in bid prices over the next year due to increased competition for a smaller digital real estate space. In turn, this will result in a similar overall profit increase for Google over that same span of time.
This significant change to Google AdWords is forcing your company to dig even deeper into its pockets to match increased bid prices. Because the competition will be constantly contending for top spots in real time, businesses will have to delve even further into unique, effective tactics that will separate them through search.
The game has changed, and it is now far more difficult to even get into the stadium to compete. How is your business preparing to move forward and be in a position to seek benefit from this change?
Jason King is a senior at LSU majoring in Mass Communication with a concentration in Digital Advertising. In his spare time, he enjoys engaging in outdoor activities like hunting and fishing around South Louisiana.
Work with Catapult Creative Media Inc. Catapult Creative Media Inc. is a digital marketing and design agency serving clients over the United States but is proud to call Baton Rouge, Louisiana home. Founded in 2007, Catapult provides digital, social and mobile marketing solutions backed by relevant strategy and measurable results. Catapult works the web to their clients' advantage, launching them to their next level of success.