Many Animals Were Displaced After the Louisiana Flooding. Meet Rory, Catapult's own Louisiana Flood Rescue Cat to Learn How He Spends His Time.
Hello! My name is Rory and I'm a rescue-turned-office kitten here at Catapult Creative Media. During the floods that ravaged South Louisiana, my brothers and sisters and I had to fend for ourselves. Luckily, the good people down here saved us and placed us in some foster homes. And that's how I ended up at Catapult.
My official job title is adorable office kitten and I take my work seriously.
Mainly, I'm responsible for causing distractions, initiating cuddles, and lightening moods after intense brainwork. Before I start my daily tasks though, I usually start a normal day in the office with a nice hello to all my lovely coworkers.
I stop by everyone's desks to get a little love, spending a little extra time cuddling with Nhi because of her comfy sweaters, and then I move on to my next task. I revisit Ginny after I make my rounds and she gives me my morning vitamins to help keep me healthy.
I had a rough start in life so every little effort helps me to grow up strong.
I stick around a little longer after I eat my vitamins because I really like helping Ginny with her web design work. Or I guess you can say I like to rest in her arms and watch as she creates! After all this morning activity, it's time for the first of my daily catnaps (get it, because I'm a cat). My favorite spot is in any untaken office chair.
Even though I'm napping, I like to stay close to all the other team members so I don't miss out on anything important. Lunchtime is my favorite time of day. Everyone brings such excellent smelling goodies. I always ask if they could share with me, but I usually get locked out of the break room. I love them anyway and usually finish off my lunch break with another nap. Are you starting to see a pattern here?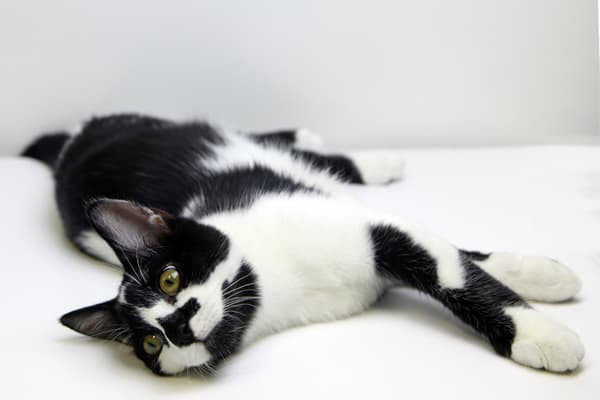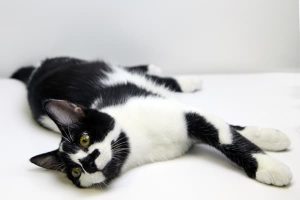 Next, it's time to get in a little exercise. From chasing toys to just sprinting around the office at top speed, I've got to get my steps in.
During this time, I also make sure our office is safe from all plush toys and bells.
Following this excitement, it's time for another nap, usually in an afternoon sunbeam or the windowsill. I wrap up my work day with one last round of cuddles around the office. I'm a strong supporter of boosting office morale and let's admit it, I love receiving cuddles. I tell my coworkers bye and wait patiently to see them the next day!
Many kitties just like me, and dogs too, lost their homes due to the recent flooding in Louisiana.
They are looking for new owners or their first-ever owners to love unconditionally and snuggle with many times over into the future. Currently, several Baton Rouge and surrounding area animal shelters are still caring for pets from the flood that are just like me and still need help caring for us all. If you think you can help and are considering fostering or adopting a pet, check out the Companion Animal Alliance of Baton Rouge or Yelp Baton Rouge.
Rory is Catapult's official rescue-turned-office cat. With the help of Hailey Johnson and her opposable thumbs, he provided his experience in this blog in hopes of helping his other furry friends. He joined the team a few weeks after the flooding and has been an integral part of the office ever since. Rory enjoys taking naps at work, finding the best sunbeams, and trying to destroy the office plant.