Make Your Content More Marketable with Twitter and Google
You read it on the Internet all the time: you need to post relevant content. The more you research what that means, the more similar results you find: just repetition of the phrase "relevant content." No advice behind it. All you know is that it improves how many of your posts get seen and engaged with and improve your brand authority.
It just seems like there's something that the marketers know that you don't — so we're here to break it down for you, and how you can create relevant content by referencing Twitter and Google.
What is Relevant Content?
Relevant content is trending content. It's what people are talking about and what they want to see. Ever been at a convention where people were discussing one topic, and you joined in with your own opinion? People were more likely to listen and converse with you on the already established topic as opposed to you coming in with a completely new topic.
When you're talking about apples while everyone else is talking about apples, people will listen to you. When you're talking about oranges while everyone else is talking about lemons, then people won't want to listen to you because they're interested in the topic at that moment.
Relevant content gets boosted on the Internet, especially with Google and Twitter.
How Google Helps.
Google's creed is to display relevant content. Google trends is a recent launch from the search engine. It's a free website that displays the listings of what people are searching for most. You can change the categories and also explore terms of your own and compare them over time. In addition, you can see hot trends — updated to the hour on what people are searching for. If you really want to know the featured stories for the day, or even over the course of the week, Google trends will let you know. The benefit is that when you talk about these featured stories, you get attention too.
For example, if you're a tech company and there's buzzing news about a virus that's infecting thousands of computers, then you could write a blog post on how people can protect themselves against the virus. People will consider that valuable input.
How Twitter helps.
Trends show up on Twitter before you even log in. Once you do, they rest in a conveniently spaced sidebar next to your feed. Right then and there, you can see what's popular, its corresponding hashtag, and decide whether it's worth it for your company to talk about.
Want to make the trends even more specific to you? Services like Trendsmap show what the trends are for your state and city, and even give you handles to follow. These handles have the city in the name, such as @TrendBatonRouge and @TrendsNewYork.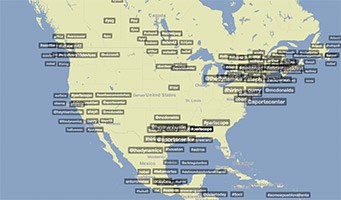 If you're a restaurant in the South, news about National Donut Day may not be relevant to you.
But if you notice that something like #CrawfishSeason is trending, then you can use that to reach out to your local audience. Remember that most of your potential customers will be local.
Relevant content may be harder to write, but easier to find with these tips. Take advantage of the free resources available to you so that you can gain readership and as a result, more clients.
Hannah Alkadi is a digital marketing intern at Catapult Creative Media. She studies advertising and visual communications at LSU, and spends her free time informing others about micronations.
Work with Catapult Creative Media Inc. Catapult Creative Media Inc. is a digital marketing and design agency serving south Louisiana and headquartered in Baton Rouge. Founded in 2007, Catapult provides digital, social and mobile marketing solutions backed by relevant strategy and measurable results. Catapult works the web to their clients' advantage, launching them to their next level of success.