In the ever-evolving digital landscape, businesses are trying new ways to increase brand awareness, attract customers, and build loyalty to improve revenue. The rise of podcasts presents a new, unique, and powerful opportunity for businesses to achieve these goals. If you haven't considered starting a podcast for your business, now is the time. A business podcast is a must-have marketing tool to help your business thrive!
Catapult Creative Media is a digital marketing agency that has leveraged creative, new solutions like starting a podcast for businesses to help companies increase brand awareness, customer engagement, and more. Contact 225-590-3310 and talk to our digital marketing experts about why starting a podcast for your business will help you bolster growth.
Why Start a Podcast for Your Business: Create Another Channel for Brand Discovery
41% of Americans tune into a podcast monthly, while 28% listen weekly. Many of those listeners are interested in business advice, industry news, interviews with prominent people within the industry, etc. So, capitalize on that and start a podcast for your business! It will help you reach a growing audience that may not have discovered your brand through other channels.
As more people tune in to podcasts for entertainment and education, your content becomes an easily accessible resource for potential customers. By discussing topics relevant to your industry and offering valuable insights, you can quickly become a go-to source for information, increasing your brand's visibility and credibility.
Why Start a Podcast for Your Business: Integrate Podcasts into Your Social Media Strategy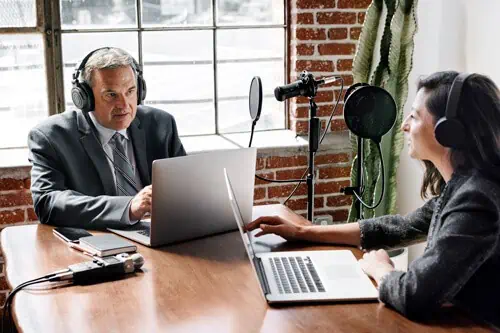 Podcasts can seamlessly complement your existing social media strategy. Have you ever seen podcast clips on Instagram or LinkedIn? You can do that, too! Here are a couple of ideas that can get you started on sharing your podcast through your company's social media channels:
Promote new episodes when they are released
Take clips from episodes about the main points you hit on and share them
Create blog posts on your website centered on an episode's main topics and promote the blogs on social media
Create waveform clips from episodes to create engaging social posts
Double-dipping your podcast content will encourage followers and new listeners with your content, driving more traffic to your podcast and fostering a community of loyal listeners and brand advocates.
Creating a social media campaign centered around your podcast takes time and energy. You need to work on your podcast and run a business. With Catapult Creative Media, a digital marketing agency specializing in engaging content, social media strategies that convert, video production, and more, they will do all that for you while getting you the results you want. Contact us today at 225-590-3310 to learn how we can turn your podcast into your company's MVP.
[Related: The Big Five Social Media Platforms]
Why Start a Podcast for Your Business: Establish Your Business as a Trusted Authority and Leader
By consistently delivering valuable, informative content through your podcast, you position your business as an authority in your industry. This can help you build trust with your audience, who will view your brand as a reliable source of information. As you gain credibility, your audience will be more likely to recommend your products or services to others, leading to organic growth and increased conversions.
Why Start a Podcast for Your Business: Gather Testimonials Through Client Interviews
Contact clients or customers satisfied with your products or services and invite them to your podcast. Doing so will allow you to showcase the value of your offerings while they promote their goods and services. It's a win-win scenario for both, as you get exposure and glowing recommendations to your audiences.
Incorporating these authentic testimonials can be a powerful marketing tool that resonates with potential customers. By sharing real-life success stories, you can create an emotional connection with your audience, making them more likely to choose your business over competitors.
[Realted: Building Trust with Customers: How Video Testimonials Can Help]
Why Start a Podcast for Your Business: Cross-Promoting Your Brand with Newsletters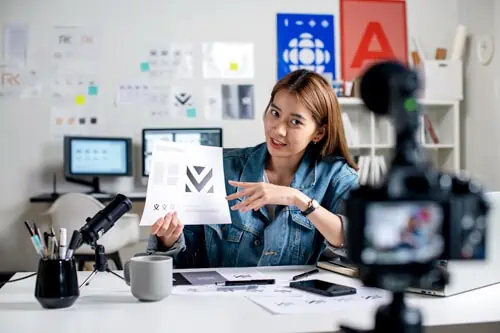 It's time to double-dip again. Maximize the impact of your podcast by cross-promoting it with your email newsletters. Share upcoming teasers or snippets from popular episodes to pique your subscribers' interest and encourage them to tune in. This strategy increases podcast engagement and helps keep your brand top-of-mind with your audience.
Why Start a Podcast for Your Business: Advocate for Your Business with Your Podcast
A podcast provides an excellent platform for embedding clear call-to-actions that can drive results. What do we mean by this? Well, engaging storytelling is everything when it comes to successful podcasts. When you tell stories about company culture, explain how your services helped clients, or times your organization overcame adversity, that will pique the interest of consumers and other organizations and make them want to buy from or work with you.
When you start a podcast for your business, you can also advocate for your organization creatively. Have your sales teams use a podcast where you explain your services during a business meeting, play clips during a speaking event, or use your podcast to communicate internally and keep your staff up-to-date with what is happening at the company.
Incorporating what your staff and customers want to hear into your podcast encourages listeners to take the desired action, ultimately contributing to your business's growth.
Engage Your Customers & Increase Brand Awareness with Catapult Today
A podcast offers a unique and powerful way to connect with your audience, increase brand awareness, and drive customer engagement. By leveraging this platform strategically, you can position your business as a trusted authority in your industry, gather powerful testimonials, and effectively promote your brand across multiple channels.
Don't miss out on the incredible benefits a podcast can bring to your business, and call Catapult to help you with a podcast strategy that advocates for your business and converts. We have social media experts, skilled producers and editors, professional copywriters, and more on staff to help you bring in more business. Contact 225-590-3310 to plan your podcast strategy with us today.