Business Events Provide 4 Benefits Including Increased Brand Recognition and Consumer Trust
Companies and non-profits alike host an array of events every year. Ranging from fundraisers and networking gatherings to celebrations and galas, companies make a fuss about each and every event, but why do companies host them in the first place?
A company, organization, or individual plans an event with the goal of promoting an idea or cause that they consider important. What we tend to forget is that events also raise the awareness and credibility of your business. They create a stage for you to sell yourself, your brand, and your cause to a large audience.
Hosting or even participating in an event can be stressful, but the benefits that come out of an event are immeasurable for your company.
Business Events Build Trust
Hosting an event shows that not only does your company exist but also that you are an expert in your field and are active in the community. An event connects you to your audience and gives them a face to connect the business to, humanizing your brand.
In turn, more trust is secured between the audience and the business. Participating in an event can also build trust. It includes giving a speech or presentation at a networking event, gala, or conference about a topic the audience and your business cares about.
This leads to making new connections and gaining new, trusting audiences due to in-common views.
Business Events Provide Unique and Memorable Experiences
Not only are events a new way to reach your target audience, but they also create unique and memorable experiences for your customers and employees. Event guests want to enjoy themselves at your event so make it a fun environment and the memories are sure to follow.
When people enjoy themselves, they are sure to remember and look to your company for more fun experiences.
Business Events Build Brand Recognition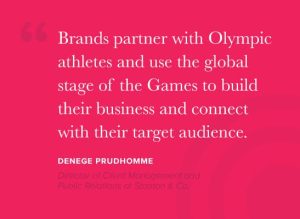 Hosting events leads directly to gaining exposure for your business. It promotes your name and, as discussed earlier, connects people with your brand. Even participating in an event leads to more brand recognition.
Take the Olympic Games for example. Denege Prudhomme, director of client management and public relations at Stanton & Co., said, "Brands partner with Olympic athletes and use the global stage of the Games to build their business and connect with their target audience."
This is a prime example of brands using other events to stringboard their brand to others who already have high recognition in order to increase their own recognition and take it to the next level.
There is nothing wrong with using another business' event to gain your own brand recognition and build networks as long as you do it appropriately and legally. It's all part of the game.
Business Events Provide Networking Opportunities
Speaking of building networks, events are the perfect venue for interacting with clients, donors, and potential business partners. Events provide you with the opportunity to walk around, mingle with event attendees, and ask and answer questions.
Take a step out of your comfort zone and plan an event for your business. From building trust and brand recognition with your customers to creating lasting and unique memories, events can push your business to the next level.
Hailey Johnson is a senior at LSU studying Mass Communication. If she is not binge watching Netflix, you can find her catching up on trending social media topics or day dreaming about traveling. She enjoys short walks on the beach and obsessing over pop culture.
Work with Catapult Creative Media Inc.  Catapult Creative Media Inc. is a digital marketing and design agency serving clients over the United States but is proud to call Baton Rouge, Louisiana home. Founded in 2007, Catapult provides digital, social and mobile marketing solutions backed by relevant strategy and measurable results. Catapult works the web to their clients' advantage, launching them to their next level of success.