Facebook is an Awesome Marketing Tool that Reaches Over a Billion People
On October 4th, Mark Zuckerberg announced that Facebook has finally reached one billion active users each month. According to the US Census Bureau's world population estimate of 7.04 billion people, this means approximately 1 in 7 people on Earth are using Facebook. Facebook has released an official document detailing several other metrics which can be found here.
Some other interesting statistics is that out of the one billion Facebook users, 600 million are using mobile phones to log on to the social network. Facebook is aggressively pushing its mobile advertising network in an effort to increase its revenues and boost its stock price. Another interesting statistic is the fact that there have been over 1.13 trillion "Likes" since the button was added in 2009.
One billion users for any website is a huge milestone. Yet this comes as a surprise to many naysayers, who have long been predicting the downfall of Facebook. But even so, how many of those one billion active users per month are actually real?
An interesting infographic has recently surfaced on the web, loosely organizing those fake user accounts into categories. For instance, X amount of accounts are fake accounts used by teenagers to fool their parents, while 7,620 accounts are fake accounts the Winklevoss twins have hand-created over the years to stay on Facebook, because Zuck keeps blocking them.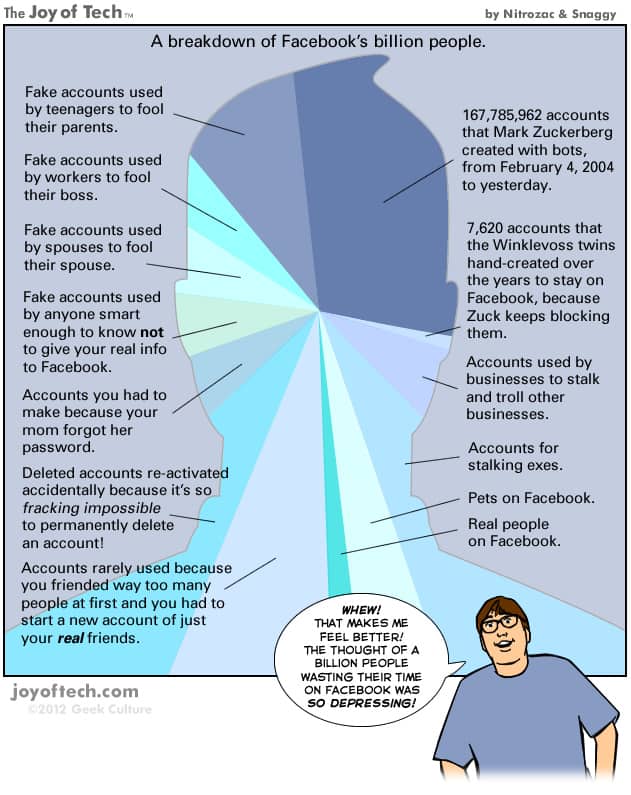 Now despite the good news of one billion accounts, Facebook is still facing troubled times. Recent reports have shown that Facebook employees have lost, on average, $2 million each since the IPO (the average employee's stocks in the company are currently worth around $2.5 million). The company's COO, Sheryl Sandberg, has lost more than $700 million since the IPO, while founder Mark Zuckerberg has lost an astonishing $10.5 billion.
While the IPO problem has presented its own independent issues, the fact that Facebook now has over one billion active users per month is reason enough to celebrate. Facebook and the team can't exactly peg who registered the one-billionth account, and have instead declared that they've registered one billion accounts based on a sample of data that provided an estimate, not a true count. Regardless, at this point we think it's safe to say that Facebook isn't going anywhere.
Sources:
http://www.huffingtonpost.com/2012/10/04/facebook-1-billion-users_n_1938675.html
http://mashable.com/2012/10/07/facebook-employees-ipo/
http://mashable.com/2012/10/07/facebook-billion-accounts/