Unless you are living under a giant rock you've probably taken notice of the two big things happening this summer. The first being social media is bigger than ever with the launch of Pokemon Go, the 2016 U.S. Presidential Election, and a naked paddle boarding Orlando Bloom (not going in detail there, look it up for yourself but be warned it is NSFW). And as for the second, the Oly****s are back!
Why Are We Censoring That?
As a business, using the this popular sports event that only comes around every four years in your social media should be a no brainer, an easy way to not only stay trendy with your audiences but to also show general support for your country. Here's the catch: the U.S. Olympic Committee (USOC) won't let you.
In July, the USOC warned non-sponsor companies against using the Oly****s' intellectual property. This means all Olym*** trademarks are engulfed by legal protections around the world, including the word "Olympics." These trademarks are completely off limits to businesses in any context.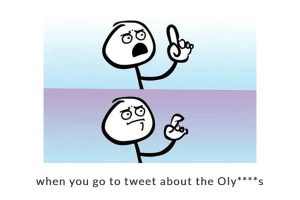 Only individuals, news media, and official sponsors are free to post whatever they want about the Oly****s . AdWeek reported that regular supportive businesses cannot create ANY social media posts that are "Olympic themed, that feature Olympic trademarks, that contain Games imagery or congratulate Olympic performance." Breaking these rules can lead to the USOC sending you a very strongly-worded letter ordering you to take down the content. If you don't comply, they could take legal action against your business.
The reason behind these strict rules is supposedly to ensure that the only businesses that can use the international sporting event to advertise or market are those who paid a butt load of money to become an official sponsor. For the rest of us businesses, it kind of just feels like an infringement of our rights while the USOC hides behind their "trademarks."
Creating Your Own Loopholes
The list of the USOC's business prohibitions goes on and on so we've listed the Oly**** bans and come up with some ways your business can tread around those vindictive and prohibitive eggshells and still show support for your country.
First, while you can't say Oly****s or use any of the other trademarked words you can use substitute language. Instead of "Team USA" try using "Team South Canada" and Sports Festival 2016. Also, instead of "Go for the Gold" try "Go for the Bronze" or "Silver is almost good enough." And since businesses can't say "let the games begin," "ready, set, go" will have to do.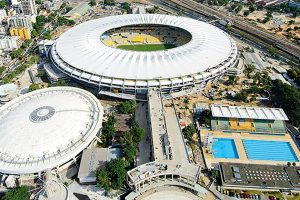 Next, don't even think about saying Rio or terms that reference the location of the Games. Instead of "Road to Rio", maybe try using "Path to that Brazilian Town 2016." Maybe even use the coordinates for the city of Rio instead. They are 22.9068° S, 43.1729° W if you're curious.
Stay aware of your hashtags too, because apparently those can also be trademarked. Instead of #TeamUSA or #Rio2016 try #TeamSouthCanada and #SportsFestivalInBrazil2016.
Also, don't post any photos taken at the Oly****s, don't feature any athletes, don't retweet or share anything from the Oly****s social media accounts. And definitely don't host an Oly****-themed party for your employees. Actually, don't wish luck to any of your favorite athletes or show support for your country AT ALL if you're a business because it could get ugly fast!
How far will the USOC go in limiting business speech just to protect their precious sponsors? I say to H-E-double hockey sticks with official sponsors. The Oly****s is a stage that brings countries together to compete and share culture. For something that unites so many people, why are they trying so hard to silence the voice that businesses have created?
So, thanks USOC for hiding behind your trademarks and limiting business speech. You aren't passing the torch you're extinguishing it.
Want to know what else not to do? AdWeek spells it out pretty clearly here.
Hailey Johnson is a senior at LSU studying Mass Communication. If she is not binge watching Netflix, you can find her catching up on trending social media topics or day dreaming about traveling. She enjoys short walks on the beach and obsessing over pop culture.
Work with Catapult Creative Media Inc. Catapult Creative Media Inc. is a digital marketing and design agency serving clients over the United States but is proud to call Baton Rouge, Louisiana home. Founded in 2007, Catapult provides digital, social and mobile marketing solutions backed by relevant strategy and measurable results. Catapult works the web to their clients' advantage, launching them to their next level of success.