A Mobile-Friendly Website is Key to Reaching Valuable Customers
Mobile devices, like smartphones and tablets, are taking over Internet browsing. What was once a computer-only accessible world of shopping, social connectivity and business sales is now available in your pocket, 24/7. We live in a world where people don't have to wait to get home to browse the web; they do it NOW.
What does this mean for your business?
In early 2014, Search Engine Watch revealed that consumers are spending more time online on their phones than on their computers. Article author Rebecca Murtagh sees increasing mobile search as a competitive advantage for businesses. In her article, she states, "The mobile device has increasingly become the preferred tool for work and communication. How quickly and effectively an organization…adapts to deliver quality mobile experiences will likely become a competitive advantage".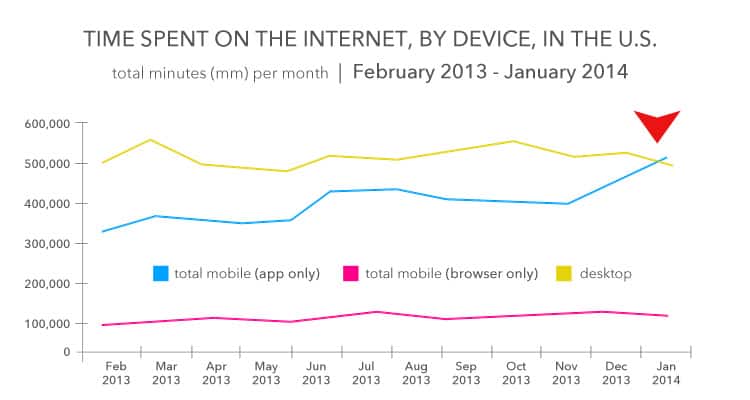 So to get your customers attention when they search for you on the web, you need to have a mobile site that gets them to the information or products they want quickly.
Wait, so now I have to have TWO websites?
While it's imperative that your website be mobile friendly, I'm not talking about having two websites, one for computers and a separate mobile website. That can get very confusing. I'm talking about having ONE website that fits ALL devices. When you're ready to get a new site or redesign your existing one, make sure your new website is designed responsively. This means that all of the information on your website – the content, the buttons and the images – fit nice and neat on any device, giving your consumers exactly what they want.
Take a look around. It's no secret that the vast majority of your target market are mobile device users. They need information now, and if you can make that information look good and load fast, you're much more likely to get a sale.
Work with Catapult Creative Media Inc.
Catapult Creative Media Inc. is a digital marketing and design agency serving south Louisiana and headquartered in Baton Rouge. Founded in 2007, Catapult provides digital, social and mobile marketing solutions backed by relevant strategy and measurable results. Catapult works the web to their clients' advantage, launching them to their next level of success.