Design Your Business Card to Showcase Your Company's Brand
Why Do I Need a Business Card?
A business card is an essential tool for your company, as it's a tangible extension of your company's brand and personality. By helping a client remember who you are and what your business stands for, these cards serve as a memory trigger of positive thoughts about your business. It is important that your card helps to communicate what your company does as well as your ideas, values, and personality.
Your business card will help set you apart as it is unique to your own company and its brand. A successful business card will make an impression on people, giving them more reason to contact you for your product or service.
Business is all about making a good first impression, and an effective business card can help boost your professional image, shape your reputation to potential clients, and make yourself easy to contact.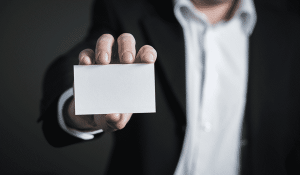 Elements of Your Business Card – What Do They Represent?
Despite just being an attractive design, each and every element of your business card should represent your company in some way.
Color – Different colors represent different things, so it is essential to choose one that is reflective of your company. For example, the color black typically exemplifies sophistication, power, and strength while white exudes cleanliness, newness, and simplicity. You can show off your company colors as well in the design of your business card.
Typography – Each font has a different voice. For example, thick, bold fonts are powerful and loud, while lighter weight fonts are more elegant and sophisticated.
Feel – Make sure that your card appeals to the sense of touch while representing your personal brand. For example, a structured and rigid business may want to choose a harder material with sharp corners while a fun or trendy company would prefer softer material and rounded corners. Thick cardstock shows that you are traditional and formal while other materials show that you are more creative.
Text and imagery – The amount of text and imagery on your card can represent your business's personality. For example, if the purpose of your business is to inform, then fill the card with a sentence of useful information. If the purpose of your business is to serve your customer, a small amount of text and fewer colors in your imagery will communicate a clear and easy personality.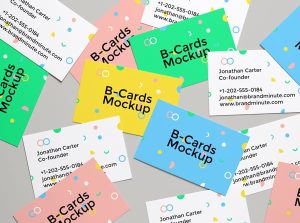 What Your Business Card Style Says About You
All of these elements combined together create a personal style of business card for your company. Different overall styles will send a different message to customers or clients. A card that is consistently clean and simple shows a business that is about professionalism, simplicity, or relaxation. The text is straight to the point and the design shows a clean, simple but effective message. These cards are good for law firms, doctor's offices, moving companies, etc.
A card that is vibrant and interesting shows that your company stands out and is full of high energy. They send a message of innovation, boldness, and lightheartedness. These bold cards are typically ideal for art or photography companies, design agencies, media companies, etc.
Business cards with a unique shape and curves exude creativity and individualism. By straying from the classic rectangular shape, you can truly show who you are and what your company is all about. For example, a baker may make business cards in the shape of a cupcake. This truly speaks to his or her profession and personality.
How ever you choose to design your business card, make sure that it represents your company's personal brand and message. In creating an effective business card, you will give potential clients or customers a way to remember you and that fits right into their wallet, creating a lasting impression.